10 Great Disney World Snacks Under $10
Disney World is known for its incredible variety of snacks and meals, and there are many delicious options to choose from. Here are some of the top snacks to try at Disney World, along with information about where they are located within each park and how much they cost.
01
Cost $5.50
Tarte aux Fraises
If you're looking for a delectable dessert to satisfy your sweet tooth, you should definitely try the scrumptious strawberry tart available at Les Halles Boulangerie-Patisserie located in the culturally-rich France Pavilion at Epcot. This exquisitely crafted tart is the perfect blend of a flaky, buttery crust combined with fresh, juicy strawberries that have been gently glazed to enhance their natural sweetness. The master pastry chefs at Les Halles use only the finest ingredients to create this delectable treat. You won't want to miss the chance to experience the exceptional quality and flavor of this must-try strawberry tart. The best part? It's an affordable indulgence at only $5.50, allowing you to savor every bite without breaking the bank. So come to Les Halles Boulangerie-Patisserie and treat yourself to this indulgent dessert that will leave your taste buds wanting more!
02
Cost $8.00
Pineapple Bread Pudding
If you are a lover of sweet treats, then you are in for a delightful experience at 'Ohana, located in Disney's Polynesian Village Resort. This resort not only offers a unique tropical island sensation but also a dessert to die for. The dessert which is priced at just $8.00 is one that will tantalize your taste buds and leave you wanting more. The dessert is expertly crafted by the talented chefs and provides an array of flavors that are sure to delight your senses. The dish is made from high-quality ingredients and is served in a beautiful and visually appealing manner making for the perfect Instagram-worthy shot. You do not want to miss out on this irresistible dessert, hurry up and make your way to 'Ohana and indulge in this mouth-watering dessert.
03
Cost $8.49
Fresh Fruit Waffle Sandwich
Imagine wandering through the delightful streets of Liberty Square at Magic Kingdom, Florida on a warm and sunny day. As your stomach begins to grumble, you stumble upon Sleepy Hollow Refreshments and the tantalizing scent of freshly cooked waffles engulfs you. Your eyes scan the menu only to rest upon the classic Belgian waffle, topped with the luxurious spread of Nutella and a bounty of fresh and juicy fruits. Without hesitation, you order the tasty treat, patiently waiting until it arrives. Your taste buds are in heaven as the fluffy waffle and rich Nutella contrast beautifully with the vibrant fruits. For just $8.49, this delicious waffle is the perfect snack to nourish and satisfy you while you continue to explore the wonders of Magic Kingdom.
04
Cost $5.99
Night Blossom
If you are looking for a cold and refreshing beverage to quench your thirst during your visit to Pandora - The World of Avatar at Disney's Animal Kingdom, then look no further than Pongu Pongu. This awesome drink spot offers a variety of thirst-quenching options that are sure to satisfy your cravings. Among the options available, there is a particular drink that you absolutely must try. A refreshing and fruity concoction, this drink is a fan favorite among visitors to the park. With every sip, you will feel refreshed and reenergized, ready to tackle more adventure and excitement in the park. This delicious drink is affordably priced at just $5.99, making it an excellent value that won't break the bank. Head over to Pongu Pongu and treat yourself to this incredible beverage today!
05
Cost $5.99
Strawberries and Creme Macaroon Ice Cream Sandwich
Indulge in the ultimate French dessert experience with the delightfully delicious treat waiting for you at L'Artisan des Glaces in the charming French Pavilion in Epcot . Take your taste buds on a journey as you indulge in the rich and creamy sweetness that this enticing dessert dish has to offer. The cool and refreshing dessert features savory flavors that will make your taste buds sing. Be sure to treat yourself to this little piece of French heaven on your next visit to Epcot. At just $5.99, it's the perfect way to indulge in a decadent and luxurious treat without breaking the bank. Savor every bite of this sweet treat and experience the world-renowned flavors of France right here at Epcot.
06
Cost $5.99
Dole Whip
If you're a fan of Disney and delicious treats, you'll be thrilled to know that you can now find the classic Dole Whip at Aloha Isle in Adventureland at Magic Kingdom in addition to various other locations throughout the parks! This beloved treat is a dessert-lover's dream come true, combining the tangy sweetness of pineapple with the creamy, refreshing taste of soft-serve ice cream. It's perfect for cooling down on a hot day, treating yourself after a long wait in line, or just satisfying your sweet tooth. And at only $5.99, it's an affordable indulgence that won't break the bank. So whether you're a die-hard Disney fan or just looking for a tasty treat, be sure to stop by Aloha Isle or any other Dole Whip location and savor the magic!
07
Cost $5.00
Churros
If you're planning a trip to Disney's magical parks, one thing you don't want to miss out on is the delicious snacks. As a matter of fact, Disney has always been known for its lip-smacking treats that leave visitors coming back for more. These irresistible classic Disney edibles can be found in various locations throughout the parks, from popcorn and churros, to Mickey-shaped pretzels and ice cream. You can grab them at refreshment stands, stalls, and vending machines, making them easily accessible no matter where your Disney adventures take you. One of the best things is that they come at an affordable cost of around $5.00, which is a small price to pay for the sheer satisfaction and enjoyment you'll derive from them. Get yourself some of these iconic snacks and make your trip to Disney even more memorable.
08
Cost $7.00
Mickey Pretzels
The Mickey Pretzel is an incredibly delicious and mouthwatering snack that has become a favorite among visitors to the theme parks. This warm, savory snack is the perfect pick-me-up for those mid-day hunger pangs and has gained a reputation as a must-try item on any park-goers' list. The pretzel is shaped like Mickey Mouse's head, adding a fun and playful element to the food you're snacking on. The Mickey Pretzel can be conveniently found at various locations throughout the parks, meaning that you can indulge in this yummy treat no matter where you are. And with an average cost of $7.00, it won't break the bank either. So why not treat yourself to a Mickey Pretzel and experience for yourself why it's become such a fan favorite? With its perfect blend of salty and savory flavors, you're sure to love this tasty snack as much as everyone else does!
09
Cost $5.00
Popcorn
Popcorn is an all-time favorite and a classic snack that many visitors enjoy indulging in while exploring the parks. You can find this flavorful treat at many locations throughout the park, so it's easily accessible to satisfy your cravings. The aroma of buttered popcorn wafting through the air is simply irresistible! The price for a bag of popcorn is around $5.00 which is reasonable considering it's a quick and convenient snack. Moreover, the savory taste of freshly popped popcorn provides a delightful and affordable option to keep you energized and content while wandering through the park. So, don't hesitate to grab a bag of this ever-popular snack, and munch on it while admiring the breathtaking views of your surroundings. Whether you're a local or a visitor, popcorn is a great snack option for all to enjoy!
010
Cost $9.49
Loaded Mac and Cheese Tots
One of the most delectable treats to try at Magic Kingdom's Fantasyland is the mouth-watering combination of crispy tater tots, gooey mac and cheese, crispy bacon bits, and fresh green onions. This heavenly dish can be found exclusively at Friar's Nook, an award-winning quick-service restaurant located in the heart of the Fantasyland where guests can indulge in a wide range of scrumptious treats. This dish is perfectly balanced in terms of flavors and textures - the crispy tater tots provide a satisfying crunch, while the creamy mac and cheese delivers a rich and indulgent flavor. Bacon bits and green onions add a zesty and savory kick to the dish, making it even more enjoyable. For just $9.49, this dish truly provides excellent value for your money, and is definitely not to be missed by foodies and theme park enthusiasts alike.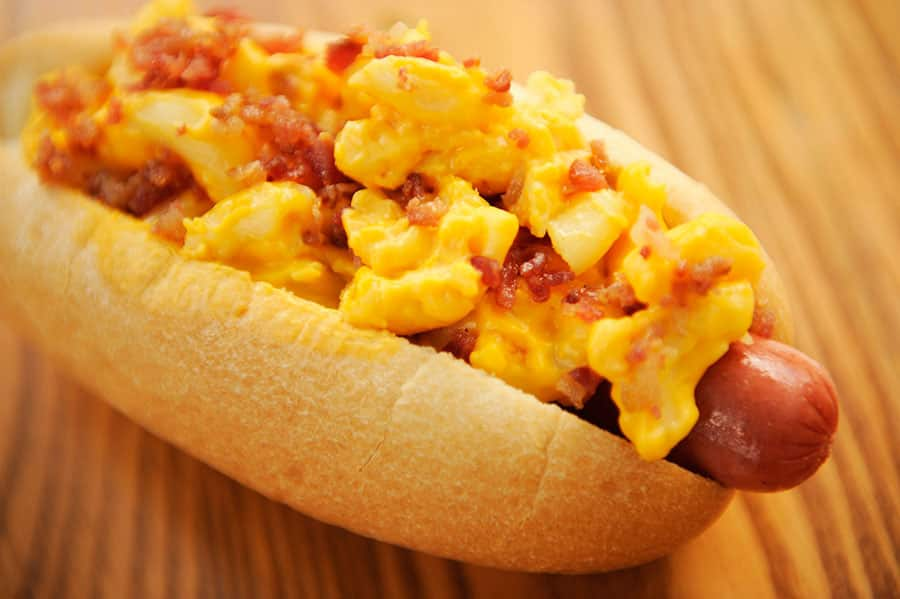 Other notable snacks to try at Disney World include the Heart-Stopping Turkey Leg, the Infamous Churro, the Bucket Popcorn, the Lunch Box Tart, and the Caramel Apple. These snacks can be found at various locations throughout the parks and cost around $5.00 to $10.00.  
Disney World has an incredible variety of snacks and meals to choose from, and there is something for everyone to enjoy. Whether you're in the mood for something sweet or savory, there are many delicious options to try. Be sure to keep an eye out for these top snacks during your visit, and don't forget to indulge in some of the classic Disney treats like Dole Whip and Mickey Pretzels.